David Yates Talks Trio and FiendFyre Scene, Deathly Hallows Part One vs Part Two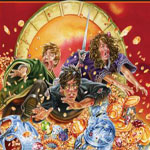 Jul 01, 2009
"…It's the hardest thing to switch off when you have this world in your head. You can't stop thinking about it-it's too intoxicating, too addictive. Sometimes it wakes me up in the middle of the night, but it's not anxiety, it's over-excitement. It's thinking 'Tomorrow we're shooting the scene in the Room of Requirement, where Harry Ron and Hermione are being chased by Fiendfyre and its a very cool scene.' "
So says director David Yates in the new issue of Total Film magazine. Mr. Yates also echos earlier comments about Harry Potter and the Deathly Hallows being a 'road movie' of sorts and then compares that to Part Two which he describes as 'elegiac and operatic.' Full Quotage:
"Deathly Hallows is a powerful spiritual journey for Harry, who realizes what his ultimate destiny is. I'm trying to give both parts a slightly different swing. Part One is dynamic, adrenalized, visceral and takes place on the road-we never go anywhere near Hogwarts. It's a refugee story about these three kids cut off from everything they know and everybody they love, being pursued relentlessly by people who want to murder them. It's a gritty road movie within this magical universe.
Part Two is more elegiac and operatic. It's where the heart and soul of the story comes home to roost. They're as different as Order of the Phoenix is to Half-Blood Prince which is quite European in flavor. The world is rich enough to allow you to go exploring in how you present it.
You can see the scans of e interview right here courtesy of Rupert-Grint. us, thanks Ivana!