PotterCast 198: Throw Down the Gnomes!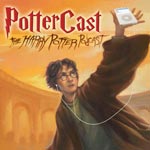 Jul 01, 2009
Recorded a few weeks ago shorty before the PotterCast 2009 Summer Tour, this episode of PotterCast, our Harry Potter podcast,
features a heap of Harry Potter talk for your listening pleasure. Our 198th episode starts off discussion of our recent LeakyCon 2009 Harry Potter conference, including the ample supply of bacon, the fire alarms, LeakyCon videos from our Room 3248 friends, dancing on YouTube, the LeakyCon DVD, and so much more. The LeakyCon 2009 talk continues with information about the Fountain of Fair Fortune Musical, as well as the upcoming Azkatraz LeakyMug and our other conference plans. Sue's News is up next, detailing the new photos of Rupert Grint, Emma Watson, and J. K. Rowling, the HBP video game, the Half-Blood Prince film, Evanna Lynch on shipping, more DH film talk, and more. The show wraps up with news on the PotterCast tour, John discussing Finding Hogwarts, and John's fear of cats.
As a reminder, the LeakyCon DVD, which will be available to pre-order soon, will
also include all wizard rock performances from our conference. If you
like live wizard rock, be sure to reserve your copy of
the upcoming LeakyCon Live Album of the wizard rock live shows at our LeakyCon 2009 conference. To listen, just hit the "Play" button on the right side of the page (–>), or use iTunes, or direct download.
"Live from LeakyCon!"

RT: 59:11
Producer: John Noe
Editor: Michael Beckett
Also, special thanks to our ever-vigilant UStream Mods for monitoring the live PotterCast recordings.
LeakyCon 2009: A Harry Potter Conference in Boston
"Harry, A History" Website
Jingle Spells 2
PotterCast Vlogs
Podcast Alley
Digg
Direct download low-bandwidth (7MB).
Remember you don't need an iPod to listen. Listen easily on iTunes, which you can download and install here, by clicking here to listen, or you can just use the streaming Flash player at PotterCast.com or just on the right side of this page. Discussion of the PotterCast is right here. Enjoy!