From the Fan's Point of View: Meeting J.K. Rowling and Going to Premiere of Half-Blood Prince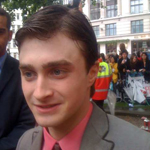 Jul 10, 2009
We have a bit of a fun treat today, as there are two special reports from the recent London premiere of Harry Potter and the Half-Blood Prince as seen through the eyes of fans. Longtime TLC reader Rotfang and his nephew Harry were lucky enough to actually go into the screening with the cast and crew and sent us their report below. Also two lovely ladies and long friends of Leaky, Ally and Lili (aka the Black sisters) have given us permission to show you their videos of what it was like to spend hours in the pouring rain, with the wait paying off here in part one as they were able to meet and get autographs from the cast of Half-Blood Prince. It is also wonderful to see in this video the pure joy and happiness that we fans all would not doubt feel, as they met and got autographs from Harry Potter author J.K. Rowling.
Thanks so much to Ally, Lili and Rotfang!
Rotfang's report from the screening of Harry Potter and the Half-Blood Prince


I've just come back from the HBP Premiere and hope to share some of the excitement of the experience with you. I had the good fortune to accompany my nephew, Harry (yep, Harry), on a birthday treat set up by his fairy godmother-aunt. Harry turned 16 and is a true fan of both the books and the films. His verdict: this is the best film yet.

Before we got soaked in Leicester square we had the pleasure of giving Harry his birthday tickets to HBP and have a photo of him looking as though he has just been hit by a passing anvil but is steadfastly refusing to let go of the laminated tickets one of which has Snape, Fenrir, Draco Malfoy, and Bellatrix on it, and the other Dumbledore and the Trio. The legend on the envelope read: Leavesden Studios Daniel Radcliffe, which had been crossed out in pen, and Harry's name scribbled underneath – a gem of a souvenir if ever there was one. Harry had got his tickets from Daniel Radcliffe's allocation.

We arrived early at Trafalgar Square to look at the new living sculpture instalment on the empty plinth (a different person spends an hour doing whatever they want), before making our way to Leicester Square, which lies just behind, happily admiring the bright blue fluffy cloud-ridden sky. By the time we got to the crowds on the periphery of the Premiere it had started to drizzle. As we were trying to figure out how we were going to navigate our way to an entrance into the heart of the heavily poster-bedecked square the heavens opened. Just another normal July in England: drizzle, heavy rain, hail, followed by more heavy rain accompanied by rumbles of thunder and the odd streak of lightning.

We were soaked through in seconds, and so was everyone else, including Matthew Lewis and Tom Felton who had made the effort to come an hour early to sign as many autographs as possible for the fans. The only reason we knew any of this hiding under our umbrellas was because of the piercing sound of waves of screams, and the screens around the square showing the latest arrivals. This was accompanied by a running commentary by two young TV presenters, one of whom had seen the film and knew something about the books, and the other who appeared to have never read a Potter book in his life.

The only souvenir we have of this insanity is a single photograph of Harry and I looking like drowned rats on the edge of the red carpet area to the square. At 5.30 exactly the entrances to the heart of the square were opened and we squeezed passed security onto a huge path of what looked like red felt. It wound its way around the main statue in the square and branched off in two directions: one to the Odeon cinema and the other to the Empire cinema where HBP will be shown this summer. You had to cross scaffolding bridges covered in red carpet to get to either one. Harry and I made our way, utterly soaked, across the bridge to the Empire, a few girls merrily screaming at Harry, no doubt partly to keep themselves warm, or just for the hell of it, and we squelched our way up some more stairs and inside, where we were met by a line of young people handing out rolls of tissue to help us dry off!!

The entrance and inside was lined with huge posters of the cast and crew all in heroic poses, and we found our entrance to the amphitheatre, where the huge screen was showing the latest arrivals, accompanied by poor audio. Only a few people sat scattered around the auditorium, every seat had a free packet of sweet popcorn and a bottle of water.

Harry and I wondered around the theatre trying to get warm, at one stage I saw a guy trying to dry his trousers using the dry air machines in the toilets, or we just tried to see if we recognised anyone. Stuart Craig passed by at one stage and Harry spotted Tom Felton who came and sat a few rows behind us, so Harry duly got his autograph.

As the theatre filled up someone called my name and I looked up to see a white haired gentleman looking directly at me, mobile phone in hand, it was Alan Radcliffe coming to wish us a good viewing of what he described as a ˜rollercoaster' film, and to ask us to pass on his thanks to Harry's aunt for her donation to the Tricycle Theatre, which is how we'd got the tickets. He was very sweet and full of that tireless energy that Daniel seems to exude.

Then we looked up to see lined along the wall leading to the stage David Heyman, David Barron, Emma, Rupert, and Dan, Tom Felton and David Yates. Two Warner Brothers producers got on stage to thank the cast and crew, many of whom were in the audience with their families, and to remind us that Warner's were proud HP was the highest-grossing franchise of all time. No apology for HBP's rescheduling. David Heyman received tremendous applause as he came on to the stage whereupon he thanked just about everybody. He then introduced Rupert as the man who had made ginger sexy, and Emma as "the woman who gets more beautiful every day." Neither spoke, but Daniel, who'd been introduced as the person upon whose shoulders the franchise pretty much rested, and who was blinded by a sudden burst of flashlights from hundreds of cameras amidst wild applause, thanked everyone, hoped we would enjoy the film, and asked all under 12s to kick the shins of anyone who took a flash photograph during the screening!!

Forty minutes later than scheduled the rollercoaster began. It started with camera flashes and was over within one, the time had flown by. As we left Tom Felton was just behind us and I turned and said well done, he kindly joined me patting me on the back, and asked whether I had enjoyed the film and as I tried to exit by the way we had come in our path was blocked by a huge security man. Unfortunately for Tom because he was speaking to me, an old guy in a baseball cap, security had not clocked whom it was I was speaking to. I of course was not allowed out that route it was for the stars only, but within an instant security recognised Tom and let him through ushering me towards some small side exit. As we squeezed our way out I asked Harry what he thought, and he said it was the best film yet, no question.