More on JK Rowling Contribution to Kids' Night In Three Book for Charity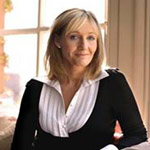 Jul 10, 2009
Previously we told of you comments made by author Jessica Adams on her website regarding a contribution from Harry Potter author J.K. Rowling to Kids' Night In Three, a compilation book edited by Adams for charity. The earlier remarks read: "Also on the charity book
front we're really excited to have J.K.Rowling on board for Kids' Night
In Three, which debuts in October. It's the next in the 'Night' series
which I've been editing with various gorgeous individuals since 1999." Today, Ms. Adams emailed with a clarification on the contribution from JKR, noting that that the contribution is not a new piece, but rather: "Along with other VIP guests, she has chosen her favourite poem to share
with us – which we're thrilled to reproduce in the collection.The favourite poem J.K.Rowling has chosen previously appeared in a UK anthology called Poems for Refugee." Proceeds from the sale of Kids' Night In Three will benefit the War Child charity; more info on that found here.
Thanks Jessica!