Live HPA Dumbledore's Army Meeting Tonight On Ustream!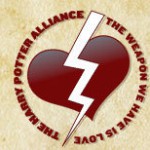 Jul 12, 2009
Attention Dumbledore's Army! A big week ahead begins tonight as the Harry Potter Alliance will be holding a meeting live tonight on Ustream at 8:30pm (Eastern). There will be discussions on how just days before the release of Half-Blood Prince, the HP fandom will be taking over Twitter, showing up to the movie theater with name tags
that spell out a lesson that Dumbledore taught them and more as part of the What Would Dumbledore Do campaign. You can listen in here via the ustream channel, but remember you must register (free!) to take part in the chat. As always, be sure to send your questions via Twitter @hpalliance. Hope to see you there!