Oprah.com Interview with Emma Watson Now Online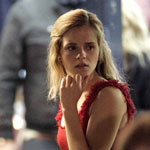 Jul 13, 2009
Oprah.com has a lengthy new Q&A with Emma Watson (Hermione Granger)
online, in which the actress discusses her role in the upcoming Harry Potter and the Half-Blood Prince
film, her work on the final two installments of the series, and her
life as a soon-to-be college freshman. First, on the subject of the
upcoming sixth film, Miss Watson relates her opinion that this film is
"the most funny [yet]. It has much more to do with the relationships between
the students, and there's two quite big love triangles going on in the
middle." In regards to her character's budding romantic interest with
the Ron Weasley, played by actor Rupert Grint, the actress reveals her
thoughts on how she would have dealt with a similar love triangle.
Quoteage:

"I probably would have acted pretty similarly, actually, I'm not going
to lie. I think she's in a tricky situation because she hasn't really
even realized herself that she really likes him. Like, she's still
working it all out. It's still kind of confusing for her. So yeah, I
think I would have acted the same. She tries all the old tricks. She
tries to make him jealous. She tries to handle it with this really
horrible guy who likes her. His name's Cormac, and he's horrible. It's
very sweet how she tries to handle it."
Moving on to the Deathly Hallows
films, which are currently in production, Miss Watson admits that she
feels "really strange" about the end coming, yet "I'm kind of not quite
there yet. I have a lot left to do, and I'm kind
of in denial as well. I don't think I'm really going to realize it's
over until it's really over, if that makes sense." On the subject of Deathly Hallows, the actress reveals that she is just "such a big Harry Potter fan, but I just wanted to read it for
my own pleasure and enjoyment…" Miss Watson goes on to say this of what she knew of the end of the series before she read the final book:

"The only thing J.K. Rowling told me, she told me I would end up having
to kiss both Dan [Radcliffe] and Rupert, and I was like, "No way!" This
is before I read the last one, so I was like, "Oh, god." Because in the
last one, Ron has a vision when he sees Harry and Hermione kissing in
his vision, so I'm going to have to do that for the vision. Even though
it doesn't actually happen, I still have to do it. I'm going to end up
kissing both of them in the last film. Ugh, it's horrible."
Finally, the interview concludes with some discussion on her upcoming move to college in the States. Miss Watson admits she is excited about "everything" with this new college experience: "I'm looking forward to studying again, and riding around campus on my
bicycle, and having a roommate¦and just everything. The whole
experience."
The entire Q&A with Emma Watson can be read right here on Oprah.com.