Newsweek Feature on the HPA and Quest to Change World Through Charity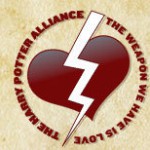 Jul 14, 2009
It is no secret that Harry Potter fans are dedicated, giving caring people. Newsweek has a new profile online tonight of one bright example of a Harry Potter fan: Andrew Slack of the Harry Potter Alliance. In a piece titled "How Crazy are Harry Potter Fans," the piece focuses on the efforts of Andrew and the HPA to reach out and make a difference in this world through acts of charity and raising awareness.
"Remember how the kids at Hogwarts assembled Dumbledore's Army to fight
against the Dark Arts? Well, that's kind of happening in real life,
too. Except this Dumbledore's Army is a registered nonprofit, a team of
Harry Potter fans/missionaries that wants to eradicate poverty,
illiteracy, and genocide. Seriously? "We are living in dark and
difficult times, as Dumbledore says, and we have a choice between what
is right and what is easy," says Andrew Slack, the founder of the
real-life Dumbledore's Army, also known as the Harry Potter Alliance,
which started in 2005 and counts more than 100,000 members across the
globe. These Harry Potter-ites live by the motto "the weapon we have is
love" (a.k.a., "Love is the most powerful form of magic," Slack says)
and wear T shirts with the slogan WHAT WOULD DUMBLEDORE DO? Through
blogs and YouTube videos, they've raised more than $15,000 in aid for
Darfur and Burma and donated 14,000 books to children in need worldwide."
Noting that Andrew got the idea to found his DA while as doing volunteer theater work, Andrew a Phi Beta Kappa graduate of Brandeis University, who also studied peacemaking in Northern Ireland, got some help from Harry Potter, well more like Paul and Joe Degeorge of wizard rock group Harry and the Potters. Paul and Andrew are still the driving force behind the HPA, which is making their presence known tonight, on the eve of the release of Harry Potter and the Half-Blood Prince.
"At screenings of Harry Potter and the Half-Blood Prince this
weekend, members plan to stand in ticket lines and recruit new members.
They'll hand out stickers that say DUMBLEDORE TAUGHT ME ¦ and you can
fill in the blank yourself. (One possible answer: "Don't go searching
for lockets in caves.") If you think sounds borderline ridiculous,
Slack himself would agree with you. "Of course the Harry Potter
Alliance is silly," he says. "But that's one of the reasons why it's so
effective. Look at Harry. When he's not fighting Voldemort, he's
playing Quidditch or Exploding Snap." Slack and his followers might not
be able to levitate their broomsticks, but that won't stop them from
spreading their own brand of magic."
Reminder, we at TLC are supporting the "What Would Dumbledore Do" campaign tonight and invite you to join us as we take over Twitter and remind the world that the magic and spirit of Dumbledore lives on.