Parade Magazine: Emma Watson on the Harry Potter Books, Plus New Trivia Quiz!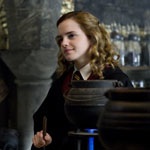 Jul 14, 2009
Attention readers of the Leaky Cauldron! Parade magazine has a new interview online with actress Emma Watson who speaks to her role as Hermione Granger, as well as her love and knowledge of the Harry Potter series by J.K. Rowling where she says:
"To be honest, I'm such a geeky
Harry Potter fanatic. I know the books inside out. I've read each of them at least three
times, and I could probably answer any trivia question that you come up with. But, when I read the
books, I read them from the perspective of someone who is just dying to know what happens and I
don't even think about the scenes I'll have to be acting."
As such on the matter of Trivia, another challenge awaits us today, this in the form of another and longer quiz on the series, with SIX bonus questions written by our own Melissa Anelli. Think you are up to the challenge? Thinking caps and quills at the ready-begin!