Jim Broadbent Confirms Return as Slughorn for Deathly Hallows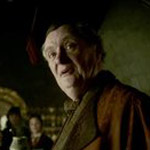 Jul 15, 2009
The BBC has a new interview with actor Jim Broadbent about his role as Professor Horace Slughorn for Harry Potter and the Half-Blood Prince where speaks very highly of the Trio of Dan Radcliffe, Rupert Grint and Emma Watson. "I've worked with younger, they didn't seem young,
they're quite grown up now and quite sophisticated and very good young
actors," he explains."I took it from them, as they inhabit
their roles in such a natural and easy way that it's just good to be
able to join them and try and get on with it as easy as they are. It's
terrific." The article also includes a video snippet with the actor, he recalls his favorite scenes in the movie, doing scenes with Robbie Coltrane and their drunken memorial for Aragog and more. Finally, the BBC piece says Jim Broadbent is currently filming again as the Slytherin Potions master for Harry Potter and the Deathly Hallows.
Thanks James!