Recap: Filming of Malfoy Manor and More from Set of Deathly Hallows with BBC Radio One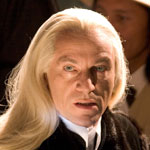 Jul 15, 2009
RECAP: Last week during the UK premiere of Harry Potter and the Half-Blood Prince we heard from actor Jason Isaacs and others that filming scenes for Malfoy Manor in Harry Potter and the Deathly Hallows would be taking place this week. Today, as noted below, UK BBC Radio One DJ Edith Bowman broadcast live from Leavesden Studios in London from the set of Deathly Hallows. We now have early video of her in Dumbledore's office available for download here in our galleries.
During her visit, she spoke with actor Daniel Radcliffe (Harry), and noted he was wearing prosthetic for the scene ("being tortured' he joked) in Malfoy Manor. While Emma Watson (Hermione) was unfortunately off due to illness, other very fun interviews took place with actor Tom Felton (Draco) and Rupert Grint (Ron). In perhaps the most comical of the day, actor Jason Isaac, resplendent in shades and his "Paris Hilton" Lucius Malfoy wig PHOTO HERE, drove the host around in his golf cart for the interview while on set. We also learned Helena Bonham Carter (Bellatrix) was also there filming those dramatic scenes, with DJ Edith Bowman noting they were hoping to stick around after their interview to do more with the cast; should more photos and videos surface online we will of course update.
You can also watch two video of interviews conducted earlier at the radio station
Dan Radcliffe, and Emma Watson.