London Comic Con: Herdman, Phelps Twins Appearance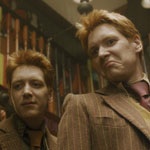 Jul 18, 2009
London Comic Con is underway this weekend, and will feature appearances from several cast members from Harry Potter and the Half-Blood Prince and more. Today, actor Josh Herdman (Goyle) will be signing at the event. Mr. Herdman has appeared in all the Harry Potter films, and will indeed be back as Goyle for Deathly Hallows. Also there today is Nina Young, who played the Grey Lady ghost.
Tomorrow will see James and Oliver Phelps (Gred and Forge) at the event, as well as Angelica Mandy who played Fleur's little sister in GoF. There is a cost involved with autographs at the event in London, England; more information can be found here.
Thanks for the reminder Alicia!