Video from E! of HBP Quidditch Tryouts and Romance (Updated)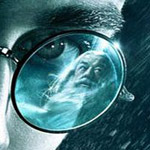 Jul 02, 2009
As we reported last night, cable channel E broadcast some new footage from Harry Potter and the Half-Blood Prince. You can now see that very short clip of the Quidditch tryouts with Harry addressing the team here on YouTube. Also, the channel has a 'first look' feature from their news show that contained a new behind the scenes look at a scene of Lavender (Jessie Cave) talking to Ron right before Quidditch, as well as featuring very short interview snippets with Dan Radcliffe and Emma Watson.
UPDATE: MTV also has video and a new article online featuring interview with Rupert Grint and Emma Watson on Quidditch and Romance. Rupert says:"I was actually really gutted last year because that is sort of
Ron's big Quidditch moment and I was really upset they didn't have that
in ['Order of the Phoenix']," he said. "I was really looking forward to
doing it this time, but it's actually sort of an anticlimax because
it's really hard work.
"You're on a broom for a long time, like a few hours at a go,"
Grint grinned. "You're literally sitting on a broom and it gets a
little bit sore down under a bit. It's been fun, but it's quite hard
work.
Thanks much to Rose, Becky, Maggie and Rachee for the owls!