ESPN Feature on Quidditch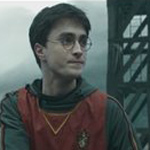 Jul 22, 2009
It would seem some curious fellows from the world of Muggle sport have taken an interest in our own magical sport of Quidditch, as witnessed today by a new feature on ESPN.com. The article recaps information about the Intercollegiate Quidditch World Cup held last fall at Middlebury College, and marvels on the game that is now widely played on many college campuses (There won't be any flying — damn gravity! — but there will be
broomsticks, held between the legs while running, bludgers ("I'll teach
you to try to score!" Whack!) and even a snitch (only the flying golden
ball is replaced by a fast guy or gal clad in gold with a tennis ball
in a sock stuck in his or her waistband). ESPN also interviews several players from nd Uof W and from LSU as well as Alex Benepe who drew up a 39 page Intercollegiate Quidditch Rule and Guide Book.

"Benepe, 22, is from the Upper West Side of Manhattan. He was a varsity
distance runner in high school, and during his freshman year at
Middlebury he was on the crew team. "I didn't like the way that a major
sport eats up your life at college without allowing much time for
creativity," he says, explaining why he stopped doing crew, "so I got
on board with developing Quidditch in order to combine creativity and
sports."

"During the peak of the fall season, I was probably spending 30
hours per week making preparations for the World Cup," he wrote in an
e-mail."We had to secure the use of a field, and spray down the
markings using field paint," Benepe says later, by phone. "We had to
rent bleachers from the college and arrange for band boxes, and get
sound equipment. I arranged for catering, to give some free food to
people. The Vermont Institute of Natural Science brought owls. I
arranged for student bands to play between games."
Many of the teams had to overcome initial resistance from the Universities. Alicia Radford of UofW says of her teams involvement:
"It was tough. We thought we had a sponsorship deal, but that fell
through," Radford says. "We hosted a benefit concert/party and sold
Quidditch club T-shirts, which helped, but mostly we paid for it out of
our own pockets. I ended up fronting a lot of the costs to get our
seats on the planes reserved, and for the next month everyone paid me
back." Kori Leporte from Louisianna State told ESPN:The school actually refused to give us any aid as far as funding the
trip went," Lopreore writes in an e-mail, "possibly because the
reputation of the club was so questionable at the time." "Even though the trip ended up being personally costly, every single
player admitted it was well worth the investment," Lopreore says, "and
now that we're the fourth-ranked team in the world, we're hoping to
squeeze a little money out of the school for next year's Cup."

"I think Harry Potter gives it the initial hook, but the quality of
game really gets people hooked because it's really fun to play," Benepe
says. And though it took a lot of work to put the World Cup together,
Benepe says, the benefit far outweighed the cost.

"Oh yeah, it
was totally worth it," he says. "I definitely enjoyed it. I love
Middlebury and my classes there, but doing something on your own that
you dream up, all the way from brainstorming to seeing it actually
happen, is a very rewarding feeling."