Boston: Next Stop on Harry Potter, the Exhibit Tour, Opening in October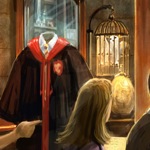 Jul 22, 2009
Cheers to Boston, which will be the next stop for Harry Potter, the Exhibit featuring many props and sets used in the beloved Harry Potter films. Currently open at the Chicago Museum of Science and Industry until September 27, we've just gotten word the exhibit will move to the East Coast, as the Museum of Science in Boston, Mass states the Exhibition is to open Sunday, October 25, 2009 and run through Sunday, February 21, 2010. Tickets are now available via this link. UPDATE: Photos from Announcement now in our galleries. UPDATE 1: The Boston Globe is now carrying this news, as noted by the following:
"With a dramatic and perhaps magical flourish, the Museum of Science
today lowered a massive red velvet curtain today to reveal two
artifacts from its next exhibit: A flowing brown robe worn by a
character named Professor Slughorn and a 500-pound, 10-foot tall chess
piece… "The exhibit will give our visitors — wizards and muggles alike —
the opportunity to stop into the world of Harry Potter," Ioannis
Miaoulis, president and director of the Museum of Science said this
morning at the announcement.
In statement issued by the museum, Miaoulis added," We're confident
that this exhibition will attract visitors of all ages — some of whom
may never have visited a science center. This exhibit will spark their
curiosity and imagination, leading them to experience the excitement of
discovery that's also at the heart of the Museum's science and
technology exhibits and programs."
In a press release sent to TLC, it notes that "after its Boston
run, the exhibition will be displayed in other major cultural and
entertainment venues, museums and institutions in the U.S. and
internationally.