Special Half-Blood Prince Tote Bags Made for Comic Con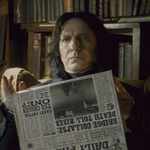 Jul 22, 2009
As readers might know, Comic Con, the giant comic book and pop culture expo is taking place again this year in San Diego, California. This event which often features many cool giveaways to attendees will see a special new tote bag promoting Harry Potter and the Half-Blood Prince. As seen here, one side features Harry and Dumbledore, the other features Draco and Snape. Past attendees will know these bags are often collectors items with the press release adding more on the bag:
"Created annually since 2006 by the Warner Bros. Worldwide Television
Marketing unit specifically for Comic-Con, the bags are distributed '
on a first-come, first-served basis ' exclusively at the Studio's
two-story nearly 3,000-square foot booth (#4329) on the convention
floor. More than 50,000 total bags will be circulated by the Studio
throughout the five days of Comic-Con, including Preview Night.
The
highly sought-after totes provide devoted fans with a handy carrying
case for all the merchandise they take away from the Con and serve as
24″x29″ mobile billboards for a selection of the Studio's live-action
and animated television series, theatrical motion pictures and home entertainment releases.
The two-sided "Harry Potter" bag features images of Harry (played by Daniel Radcliffe) and Professor Albus Dumbledore (Michael Gambon) on one side, with Harry's longtime adversary, Draco Malfoy (Tom Felton), and Professor Severus Snape (Alan Rickman) on the other."