Harry Potter Comic-Con Activities!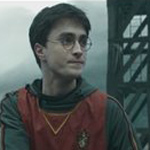 Jul 24, 2009
San Diego Comic-Con is underway and there are a few activities you can go to if you are in the area:
Saturday at 3pm: The last show of our PCLupinWillow tour is at 3pm at the San Diego Public Library, 820 E Street, right down the block from the convention center. Talk Potter with PotterCast and dance to The Remus Lupins!
Sunday at 2pm: Muggles, Wizards, Tentpoles and Magic, a fan panel featuring myself (Melissa Anelli), Lev Grossman of TIME magazine, Leslie Combemale of Art Insights, and Heidi Tandy and Gwen Grace of HPEF. Room 32AB!
Sunday at 3:15pm: Harry, A History signing at the Mysterious Galaxy Booth (#1119) on the conference floor.
We hope to meet you here!