Rumor Alert: Hogwarts Castle Ride to Feature Ten Scenes from Harry Potter Films?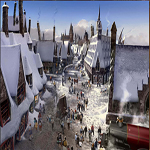 Jul 24, 2009
Rumor Alert today regarding the ride that will be contained within the giant Hogwarts Castle currently under construction at the Wizarding World of Harry Potter theme park attraction in Orlando, Florida. As a follow to the report from last week on the inclusion of Magiquest as well as news on the Castle ride, Theme Park Insider is now reporting that "the ride vehicles will be four-person seats on Kuka robot arms, mounted
from an overhead track. And there will be about 10 scenes in the ride." You can also vote on some scenes the author has personally selected on what he might like to see during the course of the castle ride.
The Wizarding World of Harry Potter is currently being built at Universal Orlando, and is set to open in Spring of 2010. Be sure to check out our extensive collection of construction photos and concept art here in our Image galleries.