Names Registered for Possible Use at Wizarding World of Harry Potter Theme Park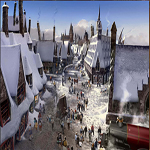 Jul 27, 2009
Attractions Magazine has a new article online today, containing some interesting names and trademarked registered by Warner Bros for possible use at the Wizarding World of Harry Potter. As readers of this website will long recall, in the past WB has registered a host of names that were never intended to be used for such things as titles of the Harry Potter novels, and we at TLC urge caution before leaping to the conclusion that the following information will indeed be used at the theme park currently under construction at Universal in Orlando, Florida. However the as the magazine reports, these newly registered items include both new and some familiar names. Quotage as follows:

Some of the trademarked names are familiar: Three Broomsticks, Butterbeer, Ollivanders, Honeydukes, and Zonko's. Those were all choices (some being winners) of past official polls for the Wizarding World of Harry Potter.

Beyond those, six more trademarks may point to other areas of the
Wizarding World and could even be the names of the attractions within
it:

– Most notably, the name "Harry Potter and the Forbidden Journey"
is filed under "Entertainment services in the nature of an amusement
park ride." It may be safe to assume that this will be the name of the
large new ride that is being constructed in the back of the park.

– Likewise, listed under the same category are "Flight of the Hippogriff" and "Dragon Challenge' which are likely going to be the new names for the existing Flying Unicorn and Dueling Dragons rides.

– Four other trademark names are also listed. "Owl Post" and "Dervish and Banges" are categorized as retail stores. "Hogsmeade Village" is listed as "Entertainment services in the nature of an amusement park attraction, namely, a themed area." "Magic Neep" is categorized under "Restaurant services, namely, providing of food and beverages for consumption."

– Finally, on the same day that all of these were filed, a mark
intended for use on clothing was filed featuring an Harry Potter "HP" logo
along with a "stylized wing ball" better known to Potter fans as a
Golden Snitch. While "Golden Snitch" has had many trademarks filed for
in the past few years, this is one appears to be related to the
Wizarding World of Harry Potter simply because its filing date is the
same as the rest of the words. Perhaps we'll see this graphic appearing
on apparel inside the theme park.

Thanks so much William!