Full Profile of Rupert Grint in July Issue of FHM Online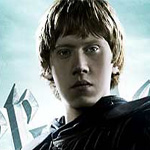 Jul 03, 2009
As TLC reported last night, actor Rupert Grint is set to grace the cover of FHM Magazine for their July issue. Scans from this feature are now online and available to be viewed via this link. Reliving his life both when he began portraying the character of Ron Weasley in the Harry Potter films and now as he readies himself to film the final installments of the series, Mr. Grint offers a frank interview about stardom, the his future career, and media reports about his life. Speaking in regards to what he describes as the "pure luck" he had in being cast in the films, the young actor also goes on to talk of the other opportunity he has had to branch out and get involved in other film projects. A caution for parents of younger children, this magazine is intended for an older audience and does contain some material that may not be suitable for younger readers.
The July issue of FHM is set to be on newsstands soon.
Thanks to our Order partners, RupertGrint.net!