More Half-Blood Prince Reviews: Guardian Three Stars out of Five, More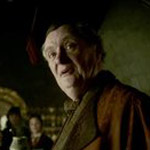 Jul 04, 2009
Over the past few weeks, screenings for Harry Potter and the Half-Blood Place for the press have taken place world wide. A few more early reviews are beginning to trickle online, with articles from the Guardian and UK tabloid the Sun now online.
The Sun gives glowing, while sometimes vague remarks in their article, praising the use of comedy and romance (Hogwarts is Snogwarts!) and giving kudos to Bonnie Wright as Ginny, and Hero Fiennes-Tiffin (Young Voldemort). The piece summarizes "Rather than giving us a series of computer-generated action sequences (yawn
again), Yates has gone for careful character development, building to a
dramatic crescendo. And that is the biggest surprise of all – The Half-Blood
Prince is masterful."
While still generally postive, a more subdued review can be found in the Guardian which gave the film three stars out of five. The bottom line reads: "Putatively winsome all this [romance] may be, but what it actually does is throw
the series' biggest weakness into sharp relief: film-making can (and
does) control pretty much everything ' except how the cute juvenile
leads grow up. Still, director David Yates knows how to play all the
cards. Although a touch ungainly, his film is solidly constructed, with
lots of fine effects. If, as Potter approaches his final confrontation
with Voldemort, the wizardly battles begin to resemble Lord of the
Rings, it's hardly a handicap; this is tried and tested cinematic
language, and does all it needs.