PotterCast 198 3/4: "Pigfarts!"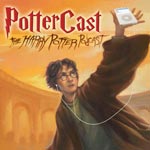 Jul 04, 2009
As promised, tonight PotterCast, our Harry Potter podcast, brings you a quick inteview with the creators of the formerly named "HP, the Musical," a Harry Potter spoof that quickly became a Harry Potter fandom craze. In this 45-minute interview meet writers Nick Lang, Brian Holden and Darren Criss (who also plays Harry in the parody). Talking, joking, and even a song ensue.
Enjoy!
To listen, just hit the "Play" button on the right side of the page (–>), or use iTunes, or direct download.
"Pigfarts!"

Reminders
RT: 44:07
Remember you don't need an iPod to listen. Listen easily on iTunes, which you can download and install here, by clicking here to listen, or you can just use the streaming Flash player at PotterCast.com or just on the right side of this page. Discussion of the PotterCast is right here. Enjoy!