Live PotterCast in Chicago TOMORROW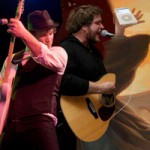 Jul 05, 2009
So many of you have been asking for the details, so here they are:
The PCLupinWillow stop in Chicago will be at 2pm tomorrow here:
Oak Park Public Library2pm
834 Lake Street
Oak Park, IL 60301
Go there for a live PotterCast and show by the Remus Lupins and the Whomping Willows.
Disclaimer: The Leaky Cauldron cannot be held responsible for minds blown by awesome dance parties on the PC Lupin Willow tour. Check out the rest of our tour dates here.
HAPPY FOURTH OF JULY ALL!