Winners of Half-Blood Prince Diary Contest Announced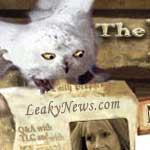 Jul 08, 2009
Now that all diary entries have been received as part of our Half-Blood Prince Diary Contest of June, our Contest Crew is ready to announce the winner. As readers will remember, this contest asked you to write a diary entry from the point of view of an adult Order of the Phoenix member about the Battle of Hogwarts. After receiving many splendid entries, the winners of this contest are as follows:

First Place: Faerenach
Second Place: Lillylove
Third Place: Mac_Beth13

Honorable Mention: Fidelia
Honorable Mention: bloodyxxfairy
The first place winner of this contest will receive a custom made wand donated by Wizard Wood Wands, while all listed winners will receive MyLeaky points for their winning entry.
As a reminder, our Harry Potter Look-Alike Contest is still open and accepting entries. To find out more about this contest, click here.
Congratulations to all!