Let's Play Baseball then Watch Harry Potter!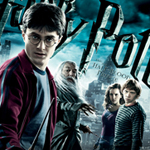 Jul 09, 2009
Thanks to the LA Dodgers who let us know about a fun way for fans to enjoy some great baseball then take in a bit of Harry Potter at the same time. Fans can see the Dodgers take on the New York Mets, then watch a special screening of Harry Potter and the Order of the Phoenix that will be followed by an extended sneak peek at Harry Potter and the Half-Blood Prince. Tickets still remain for the event which starts tonight at 4:00pm Enjoy!
Thanks to Josh and the LA Dodgers!