New Behind the Scenes of Half-Blood Prince Specials from Germany, Italy; New Clip of Potions Class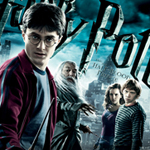 Jul 09, 2009
We have two more behind the scenes specials on the making of Harry Potter and the Half-Blood Prince to update you on tonight. First, thanks to our own Erna, we that the German tv station Pro7 will be airing their special Sunday, July 12 at Sunday, 7:10pm. You can see some early photos including new ones of Bonnie Wright, Jessie Cave, Dan Radcliffe, Rupert Grint and Emma Watson here in our Image galleries.
While we have seen parts of this earlier this month, there is a SPOILER filled but fascinating back stage special that was broadcast in Italy on Half-Blood Prince. Part One can be found here with an extended look at Harry and Ginny at the Burrow. Via this link there is another new clip from the movie, this showing Slughorn's class and Felix Felicius. Also new are many interviews with cast and crew, making of Fenrir Greyback.
In this video there is a long interview with Rupert Grint on Quidditch as well as extended scene of Keeper Ron at work. Also new are more looks at Weasley Wheezes, Tom Felton on Draco and another brief scene of Draco hurrying along to the RoR.
Thanks Ele, Brian and all who emailed!