Rupert Grint on the Growing Confidence of Ron and More in Half-Blood Prince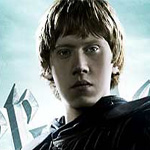 Jul 09, 2009
There is a new video interview online with actor Rupert Grint where he speaks to the growing confidence of his character Ron Weasley in Harry Potter and the Half-Blood Prince. Filmed on the set of the sixth film, you can watch video where he discusses Quidditch love and Felix Felicis here. Also be sure to read a new profile of Rupert Grint here in the Times, where he reflects back on learning his craft over the years and growing as an actor. Quotage:

In short, Ron gets a girlfriend, Hermione pines for Ron and Harry
kisses Ginny Weasley (Bonnie Wright). Better still, the young cast,
famed for delivering declamatory nails-along-the-blackboard
performances, here do, gasp, "proper acting" ."Yes' Grint confesses, "I've noticed that in the early days I was
just reading my lines. I wasn't really acting. But over the years, and
especially with the different directors we've had, you try to give
more."
Thanks so much to our Order partner RupertGrint.net and Claire!