New High Res Half-Blood Prince Cast and Character Portrait Photos Including Alan Rickman as Snape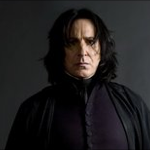 Aug 17, 2009
Many new high quality high res photos are now online of the cast and their characters for Harry Potter and the Half-Blood Prince. Of note is this rare high res photo of Alan Rickman as Severus Snape, with a closer look here. Others include high res looks at Jim Broadbent as Professor Slughorn, Luna Lovegood (Evanna Lynch) and her Quibbler magazine and here in her sparkly Christmas party dress, Quidditch players Ginny (Bonnie Wright), Harry (Dan Radcliffe) and Ron (Rupert Grint), as well several of Emma Watson (Hermione), Tom Felton as Draco Malfoy, Fred and George Weasley (James and Oliver Phelps), Tonks (Natalia Tena) and Lupin (David Thewlis), Bellatrix (Helena Bonham Carter), Dumbledore (Michael Gambon), Fenrir Greyback (Dave Legno) young Voldemort (Hero and Tiffin Fiennes). You can see the entire lot here courtesy of ScarPotter.com, with (UPDATE) more in our galleries here.
UPDATE 2: Also thanks to Oclumencia for more High Res HBP stills including of Madam Pomfrey in the hospital wing here and the rest can be seen here.
Thanks much to ScarPotter for emailing and to Oclumencia!