Live HPA Alliance Meeting Tonight to Discuss New Magical Acts of Kindness Campaign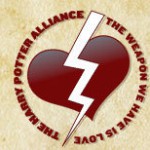 Sep 13, 2009
Attention Dumbledore's Army! The Harry Potter Alliance will be holding another live meeting tonight via Ustream starting very shortly at 6:00pm (Eastern). In the meeting, fans will hear more about the new Magical Acts of Kindness campaign, as well as more on their approach to raising awareness in a manner that incorporates the messages of Harry Potter along with
the Arts, pop culture, standing up for justice, and spreading love. Later, tune back in at 9:45 pm for a "Late Night Snack with Andrew Slack" where the topic will be "Beauty and the Beast" and its unexpected
connection to the current debate around health care reform. Remember, you can listen to the meeting at this link to Ustream starting very soon; hope to see you there!