Harry Potter Collector's Edition DVDs Update; New Harry Potter DVD Game, New iPhone App Coming November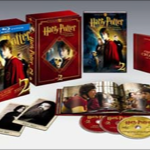 Sep 17, 2009
More big news today regarding Harry Potter DVDs. In addition to the confirmed release date of December 8th for the Half-Blood Prince DVD from earlier today, we now can also confirm our earlier report that the first two collector's editions DVDs will also be released on December 8th. Video Business reports:
"Ultimate Editions of Harry Potter and the Sorcerer's Stone and Harry Potter and the Chamber of Secrets,
priced at $39.92 on DVD and $49.99 on Blu-ray, will each include five
hours of special features, theatrical and extended versions of the
film, a 48-page photo book and other collectibles. Among the special features will be screen tests, new featurettes with
the cast and filmmakers and the first two one-hour installments of a
new comprehensive documentary about the making of the movie franchise.
Called Creating the World of Harry Potter, the eight-hour documentary will have one hour on each Ultimate Edition. Sorcerer's Stone will contain Creating the World of Harry Potter Part 1: The Magic Begins and Chamber of Secrets will have Part 2: Characters."
UPDATE: Home Media Magazine also points out: "Both DVD and Blu-ray offerings of the ultimate editions will include
digital copies, and the Blu-ray versions will include In-Movie
Experience modes with director Chris Columbus, which includes
picture-in-picture, storyboard comparisons and still galleries, as well
as Warner's Maximum Movie Mode option."
In addition,two new products will be released. Another brand new Harry Potter DVD game will be available in December, as is a second iPhone application (the free HBP one is already released). Quotage:
"The new DVD game, Harry Potter: Wizarding World, will be priced at $24.98 and allow fans to test their potion-making, spell-casting and apparition skills.Warner's Harry Potter Spells iPhone app, which will be on
sale at iTunes in November, will turn an iPhone or iPod Touch into a
wand, allowing fans to train for 13 spells at Hogwarts and challenge
friends to a duel."
Thanks so much James!