New Details on Wizarding World of Harry Potter Theme Park Coming This Month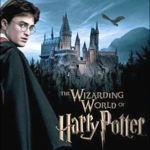 Sep 03, 2009
There is some good news today regarding the upcoming Wizarding World of Harry Potter theme park attraction currently under construction in Florida. The Orlando Sentinel reports that in a few weeks on September 15th, fans will learn much more on the widely anticipated new Harry Potter attraction as the paper says: "The resort has begun sending out invitations for a Sept. 15 webcast
promising a "first-ever glimpse" ot the Wizarding World, which is
supposed to open sometime during the first half of 2010."
Update: A second article from the Sentinel is now online, where the newspaper reminds us:
"Universal's Potter event is scheduled to occur two days after the Walt
Disney Co. concludes a fan convention in Anaheim, Calif. Disney is
widely expected to announce new projects at the gathering for several
of its theme parks, including Disney World. Although Universal has said little about Wizarding World since announcing it in May 2007, some details have leaked out. The 20-acre "theme park within a theme park" in Islands of Adventure is
to be anchored by the Hogwarts School of Witchcraft and Wizardy. The
15-story castle will house the themed area's signature attraction —
which, according to people familiar with the project, will feature a
"robocoaster" ride system in which guests sit in seats suspended from a
robotic arm that swivels in multiple directions as it advances along a
track.The name of the ride is thought to be "Harry Potter and the Forbidden
Journey," based on U.S. trademark applications filed earlier this year. The Wizarding World will also include Hogsmeade Village, with shops and
taverns from the novels selling items such as magic wands and serving
treats such as chocolate frogs and butterbeer."
As readers will recall the theme park is currently under construction in Orlando and will feature at least three rides, one housed in the giant Hogwarts castle which will serve as center of the park. Be sure to check out our extensive collection of photos here. TLC will have complete coverage of this event on the 15th, stay tuned!