Harry Potter Exhibit in Boston Now Hiring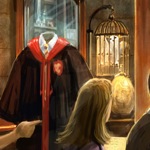 Sep 05, 2009
Back in July we first told you Harry Potter, the Exhibition would be moving to the next stop on the tour to Boston. Now we can report that Museum of Science in Boston, Massachusetts is hiring workers specifically for the traveling exhibition of props and costumes from the Harry Potter films which will open next month on October 25th. However the six positions open require workers to use an authentic British Accent, as the Museum job listing says:
"Six (6) positions must be in the exhibit at all times. The staff in these six positions must have an authentic British accent at all times! Ideal candidates will have some familiarity of the Harry Potter films, and work well in direct contact with the general public. The Exhibit Host
will work in all six positions, rotating about every hour or so into
another position. Again, all six positions must be in place whenever
the exhibit is open; an authentic British accent will be used at all times."

"Both full-time (35+ hrs/wk) and part-time (10 to 16 hrs/wk)
temporary Exhibit Hosts are needed to provide the necessary coverage in
this exhibition. The Museum of Science will be hiring for 20+ total
temporary positions.The ideal candidate will have as much schedule flexibility
as possible to work mornings, afternoons, and some evenings, on any
days of the week and weekends, from mid October 2009 through late
February 2010. The exhibit is open every day except Thanksgiving and
Christmas."
For more on how to apply, click here. Good luck! Thanks so much Jen!