UNESCO to Celebrate Literacy with International Translators of Harry Potter Novels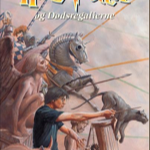 Sep 07, 2009
Tomorrow, September 8th, the United Nations Educational, Scientific and Cultural Organization will celebrate International Literacy Day with a special gathering of translators of the beloved Harry Potter novels by J.K. Rowling. According to the official release, "translators responsible for some 20 different language versions of the
hugely successful Harry Potter book series, which has fired enthusiasm
for reading in countless children around the world, will gather at a
conference in Paris." TLC reader Max sent us this additional article on the conference that says:
"The conference was initiated by Yuko Matsuoka
Harris, Japanese translator and publisher of the Harry Potter series,
and convened by the Organizing Committee composed of her and two other
Harry Potter translators, Gili Bar-Hillel of Israel and Torstein
Bugge-Høverstad of Norway. Harry Potter translators of more than 20
different languages will participate in this conference together with
experts on the socio-cultural, linguistic and educational aspects of
this phenomenon. These translators will share their personal and
professional experiences, which have never been discussed before.

The series of 7 Harry Potter's books has achieved a historic
record of more than 400 million copies sold world-wide and it has
kindled enthusiasm and joy of reading in the mind of children as well
as of adults. But what is often ignored is the contribution of
translators. By virtue of creative translation into many mother
tongues, this wonderful story charmed children as well as adults and
introduced them into the magical world of Harry Potter. Through the
truly creative work of translators and their understanding of cultural
and linguistic intricacies, the story of Harry Potter has been spread
and appreciated by readers, especially young adults, all over the
world."
The piece also says that there will be an exhibition of Harry Potter books jackets in the various languages, all signed by the translators and/or their illustrators, with some 30 different language versions of the series represented. Be sure to check out our extensive collection of book jackets from the various translations of the Harry Potter series by J.K. Rowling here in our galleries.
Wonderful! Thanks so much Diana and Max!