(Now with Video) More Seven Potters Location Filming at Queensway Tunnel in Liverpool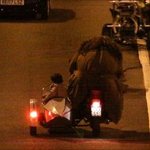 Sep 08, 2009
Location filming for Harry Potter and the Deathly Hallows continues as the Liverpool Echo is reporting today that second unit crews are on location at the Queensway Tunnel in Liverpool working more on the Seven Potters scene from the movie. UPDATE: Video of the tunnel, motorcylce, crew and prep work here on YouTube or here in our galleries. According to the article, none of the main stars will be present as this involves the Bickers Action stunt team who have worked on several of the previous Harry Potter films, as well as doubles for the actors. The paper also says:
The
scene is thought to involve Hagrid, who has so far been played by
Robbie Coltrane, racing through the tunnel on Sirius Black's trademark
motorbike with Harry Potter in a sidecar fighting off enemies with his
wand. A publicist for the film said: "We have got a unit shooting for
Harry Potter and the Deathly Hallows "There are no principal cast members there. "It is all going very well and everybody has been very accommodating locally."
Readers will recall we saw photos of second unit filming for the Seven Potters scene at the end of July involving doubles for Hagrid and Harry on the magical flying motorbike belonging to Sirius Black.