Tom Felton to Visit Wizarding World of Harry Potter Next Tuesday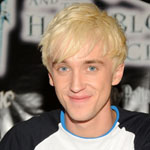 Sep 09, 2009
Actor Tom Felton has announced via his official Twitter tonight that he will be visiting the US again, traveling to the upcoming Wizarding World of Harry Potter theme park attraction in Florida. Tom said "he just confirmed
i'm going to see the wizarding world of harry potter at universal on
tuesday! i'll let u know how its coming along…gonna go on other
rides to..cant go to the simpsons ride tho…have to admit it made me
feel slightly worse for wear after i went on it" This visit on Tuesday, September 15th will coincide with the much anticipated Universal Orlando webcast for reporters all around the globe which is set to provide more details on the upcoming theme park currently under construction at Universal in Orlando. TLC will be at this event next week and we will have complete coverage, stay tuned!
Thanks Tom and enjoy the park!