New Images of Emma Watson Burberry Fashion Ads Online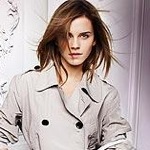 Jan 05, 2010
New photos from actress Emma Watson's Burberry fashion advertising campaign have been published in various magazines for the new year. Thanks to our awesome Image Galleries crew, we have for you a round up of a number of these photos. Firstly, print advertisements featuring Miss Watson have appeared in the February issues of GQ Magazine and Vogue UK. Next, the young actress has taken part in fashion spread that also features her younger brother, Alex. The Telegraph reports, the siblings are taking part of a series of photos by photographer Mario Testino showcasing work by designer Christopher Bailey, the current British ˜designer of the year'. An image featuring the two can be found right here in our Galleries.
Update: People Magazine now has an article online with an additional photo of Miss Watson from her Spring/Summer Burberry ad campaign.
Finally, a full collection of images of Miss Watson can be found in our Image Galleries via this link. If you come across new Burberry ad campaign images featuring Emma Watson, please do email scans to images@the-leaky-cauldron.org.