Daniel Radcliffe in Promotional Advert for Simpsons 20th Anniversary Season (Updated)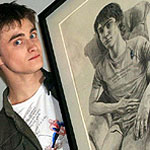 Jan 10, 2010
Fox recently aired a new promotional advert for "The Simpsons" 20th Anniversary Season featuring Daniel Radcliffe. In November, Entertainment Weekly reported that Mr. Radcliffe would guest star on "The Simpsons" later this year. The advert, which can be seen via this link, shows Mr. Radcliffe at the recording studio, saying that he holds "The Simpsons" "entirely responsible for how [he] turned out."
We now have this clip right here in our video galleries.
Thanks to SnitchSeeker for the tip!