Fandom Efforts for Haiti Relief – Buy a Jingle Spells or Donate Today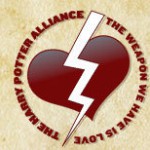 Jan 15, 2010
Three days ago a devastating, 7.0 earthquake hit Haiti. The amount of humanitarian aid and charitable relief that's required to stabilize the area and secure the safety of those who live there is astronomical. We have been discussing how to properly respond to this tragedy and will have more details soon on events and other efforts that are in the works to help the fandom react as one.
Meanwhile, we have several ways you can contribute as a Harry Potter fan. Firstly, profits from any Jingle Spells album (whether digital or disc) bought within the next week will go to Haiti relief. You can purchase any Jingle Spells album right here or from the link in the sidebar. [Unrelated note: Any JS ordered between Dec 11 and now will be going out this week.]
If you'd just like to donate and have your name registered as part of our Potter community donation, please use the button below.
More relief efforts are going on at the fandom-centric Help Haiti LiveJournal, where you can enter to win prizes that have been donated for the cause. The auction ends Wednesday so check it out!
Please stay tuned for more. You can find out more about what you can do to help at this link.