Recent JKR Edinburgh House Purchase Reports False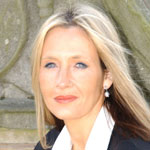 Jan 21, 2010
Over the past few days, reports have been circulating across various news outlets regarding Harry Potter author J. K. Rowling purchasing an Edinburgh house after viewing only two rooms, and after offering the current owners a sum of money to vacate in time for a Christmas party. Leaky has received word today directly from legal representatives of J. K. Rowling confirming these allegations to be FALSE.
The press release reads:

There have been a number of false reports published today concerning a recent property purchase by Harry Potter author JK Rowling. Usually Ms Rowling chooses not comment in any detail on allegations concerning private, family and home life.
Despite Ms Rowling's stance on private matters, she feels that she has little choice but to comment on the false allegations circulating today in an attempt to quash them before they are spread any further. Therefore, allegations that Ms Rowling offered £300,000 on top of the purchase price in order for the seller to vacate the property within two weeks so that she could hold a Christmas Party, and, that Ms Rowling viewed only 2 rooms in the property before deciding to purchase it are all absolutely false.
Ms Rowling has asked her lawyers to write to the publishers concerned.