LEGO Harry Potter for DS "A Bit Zelda-y"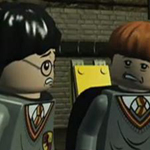 Jan 26, 2010
The latest issue of Official Nintendo Magazine has a preview of the LEGO Harry Potter game for the Nintendo DS. An article on the magazine's website has an excerpt from Official Nintendo Magazine's interview with the game's Lead Designer, Arthur Parsons. Noting that the DS LEGO Harry Potter game is "completely different" from the game for the Nintendo Wii console, Mr. Parsons comments:

It's an isometric adventure-style game. You use the stylus to guide your characters around. It's a bit Zelda-y. You can use a gesturing system to cast spells by drawing shapes on the touch screen.
Issue 52 of Official Nintendo Magazine is out now.