Wizarding World of Harry Potter Super Bowl Commercial Now Online (Updated)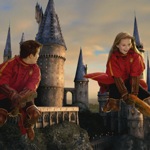 Feb 02, 2010
There is a treat online this morning, for national commercial for the Wizarding World of Harry Potter theme park set to air during the Super Bowl XLIV game has made its way online and can be watched via WalletPop.com. (Update: The video is now in our video galleries here.) As readers will recall, Universal Orlando Resort gave word that this commercial for the Harry Potter theme park will be featuring "Be Courageous. Be Outrageous. Be Extraordinary." theme, and would give new and expanded views at the theme park. The commercial, which runs exactly thirty seconds, gives us brand new looks at the towering Hogwarts Castle, sprawling Hogsmeade shops, Hogwarts Express, and more. The video also features actor Dan Radcliffe as the character of Harry Potter leading the way for two young Gryffindor Quidditch players as they fly into the castle.
Super Bowl XLIV will air Sunday, February 7, 2010 on CBS.
Update: WB has let us know that syndicated entertainment show Access Hollywood will be airing a segment about the Wizarding Word advertisement this evening.
Thanks to WalletPop.com for mailing.