Isaacs, Oldman and Rickman Among Hollywood's 10 Most Eeeeevil Actors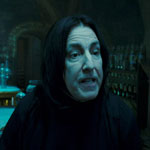 Feb 19, 2010
Moviefone have listed Gary Oldman (Sirius Black), Jason Isaacs (Lucius Malfoy) and Alan Rickman (Severus Snape) as three of "Hollywood's 10 Most Eeeeevil Actors." Oldman is described as having "a fabulous filmography of bad-natured souls" for his dark portrayals of Sirius Black, Dracula and Carnegie in the recent "The Book of Eli." Jason Isaacs' roles in "The Patriot," "Brotherhood" and as "Voldemort's deliciously evil Death Eater — with awesome hair" in the Harry Potter films are highlighted as particular achievements. Finally, Alan Rickman is at number one in part for his depiction of the "slimy and seemingly traitorous" Hogwarts Potion Master.
You can find the complete list on the Moviefone website at this link.
In related news, Jason Isaacs has been chosen as Tuesday's Connector of the Day on CNN as part of their Connect the World feature. The website gives you the opportunity to ask Isaacs a question in the comments at this link. Thanks to Celine for letting us know!