Production Designer Stuart Craig Featured in The Telegraph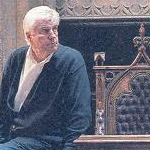 Feb 20, 2010
Thanks to our Order Partner RupertGrint.net
we can let you know about a new article in The Telegraph about Stuart
Craig, the production designer on the Harry Potter films. The interview
covers Craig's daily routine, his favourite props, favourite film and
even has a small picture of a map of Hogwarts drawn by J.K.Rowling, the
"first document from the very first day of the very first
coming-together of the book, the author and the movies, more than 10
years ago."
The production designer also briefly mentions "Harry Potter and the Deathly Hallows" throughout the article, such as when he talks about the "new Snitch that miraculously opens up to reveal the Resurrection Stone" created for the seventh film. Quotage:

The last time I cried was a few days ago when we filmed the death of Alan Rickman's character, Snape. It's quite difficult to cry in rushes – where we watch the previous day's work – but he is an extraordinary actor and he dies an extremely good death. I don't cry out loud, I have to say, but I do get a wet cheek.
[On life after Harry] I really am glad to have worked on the Potter films and in 10 years it has never seemed repetitive. After it all comes to an end, and I'm at home, I'm sure I'll be grumpy for a few weeks because people won't be interested in what I think any more. But I'm sure I'll get used to that.
Scans of the two page feature are now available here in our galleries. Thanks again to RupertGrint.net for the heads up!