Helena Bonham Carter Talks More About Bellatrix, Battle with Mrs. Weasley in "Deathly Hallows"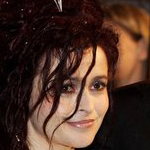 Feb 26, 2010
RottenTomatoes.com has a new profile online of actress Helena Bonham Carter (Bellatrix Lestrange) which features some new details of her character in the Harry Potter final film. The actress relates the following in the interview:

And it'll be quite the moment, she explained. "I do get a good death scene," she told us. "It was really exhausting. As usual! [I'm] duelling, with a wand, on a table. I fell right off. I was clever enough to say, 'If you're going to ask me to duel, backwards, can we put a stuntman at the end?' They said, 'Ah, you won't need one.' And what did I do? Walked straight off.
"You'd think with 70 people looking at you, one of them would go, 'Er, could you stop?!' No! They loved it. I nearly killed myself — on the day that I died."
She continues, speaking to the kind of character she created for Bellatrix, a character which "wasn't on the page." Quoteage:

I did think, What can I do to make this interesting? She was just written as tall and gaunt, but I knew there was something I got attracted to — playing arrested development. You know, children. Bellatrix is another child — stuck and totally anarchic."
"Harry Potter and the Deathly Hallows" will appear in theaters in two installments; the first in November 2011, the second in July 2011. Thanks Kimmy!