Daniel Radcliffe Talks Epilogue, 'The Forest Again,' Saying Goodbye to Potter and More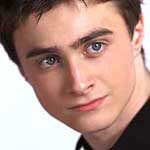 Mar 02, 2010
A number of new articles and videos have surfaced on the MTV website in which Daniel Radcliffe (Harry Potter) has spoken briefly about "Harry Potter and the Deathly Hallows." You may remember that last month we let you know about an interview MTV conducted with Tom Felton (Draco Malfoy) in which the actor mentioned that he was "excited to see what we look like 19 years later" in the epilogue scene. In a follow up to this article, Radcliffe comments, "[we] have done a few tests, and it does look really, really rather good." The Harry Potter actor also spoke about the daughter of Amanda Knight – the head of the makeup department – who Radcliffe hopes will portray Harry's daughter Lily Potter. "She was born a week before I got the part and is now 9," continued Radcliffe, "So it's the kind of physical embodiment of how long we've been there." You can watch a video of this section of the interview here on the MTV website.
Secondly, Daniel Radcliffe has spoken about saying goodbye to Harry Potter, "something," he concedes, "you have to accept, and it's also very exciting." The actor described seeing fellow cast members leave the set for good as, "odd" as they finish their individual stories in the film and also discussed the lasting impact of the film on the British film industry:

I did have a moment the other day, in the makeup room that I have been
in for ten years now. I did walk in and go, 'Wow, this is [hitting me].
One day " in about four or five months from now " I'm going to walk in
here for the last time.' Especially since, after we're done shooting,
they're redoing the entire studio, tearing down and starting again. Which is, about time! They could have done it ten years earlier, really. It's going to be amazing, actually. A big investment is going into
Leavesden [Studios] and England will finally have a third film studio.
They've always had Shepperton and Pinewood, but to have Leavesden? That
will do wonders for the film industry in England, which is always a
struggle to keep going. Potter has been the major film in England for
the past ten years and it's […] kept a lot of people in work, myself included, obviously.
You can find the video accompanying this article at this link, where you can also find more video clips of MTV's interview with the actor. In these clips, Radcliffe also discusses everything from the hypnotising effect of Olympic curling, social networking website Twitter and his involvement in The Trevor Project. Furthermore, Radcliffe mentions filming the resurrection stone scene in 'The
Forest Again,' saying he "put a lot of pressure on [himself]"
to get it right.