Harry Lands in Haiti; 16,000 Pounds of Relief Supplies Delivered to Haitian People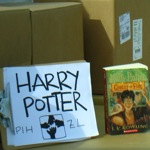 Mar 04, 2010
As readers will recall, the Helping Haiti Heal drive raised a grand total of $123,754.41 for Partners in Health, which made it possible for three cargo planes– Harry, Ron, and Hermione– filled with tons of relief supplies to be flown to Haiti. Recently, Harry made his trip to Haiti, delivering 16,000 pounds of life-saving of medical supplies to the country. The plane landed in Port-au-Prince at 8:22 am EST on Wednesday, March 3. Photos of the plane and the supplies it carried are now available in our Image Galleries; images include:

The cargo plane on the ground
Boxes upon boxes of supplies
More supplies on the ground
Supplies with Harry Potter and the Goblet of Fire
Stay close to Leaky for the latest in the Helping Haiti Heal effort, as well as for information on the grand gift drawing.