Harry Potter Books Make Top Book to Pass On and Bed Time Story Lists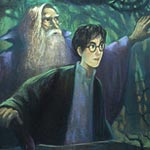 Mar 04, 2010
A World Book Day survey has found that the Harry Potter series ranks as the top book readers would pass on to younger generations. The BBC reports that more than 1,000 Britons aged 16-64 were surveyed as part of this poll, which ranked such other books as The Da Vinci Code by Dan Brown, Twilight by Stephenie Meyer, and The Kite Runner by Khaled Hosseini as novels people would likely pass down. The full list is as follows:
The Harry Potter Series – JK Rowling
The Da Vinci Code – Dan Brown
Why Don't Penguins' Feet Freeze?: And 114 Other Questions – New Scientist
A Short History of Nearly Everything – Bill Bryson
Twilight – Stephenie Meyer
The Kite Runner – Khaled Hosseini
9/11 Commission Report – National Commission on Terrorist Attacks upon the United States
You Are What You Eat: The Plan That Will Change Your Life – Dr Gillian McKeith
The God Delusion – Richard Dawkins
Dreams From My Father – Barack Obama
On a related note, the Harry Potter and the Half-Blood Prince novel was ranked in a list of the best bed time stories from a survey of parents with children aged 2-11. As the Telegraph reports, this poll was also carried out in conjunction with World Book Day, and listed the sixth Potter book in 19th place. The classic The Very Hungry Caterpillar by Eric Carle claimed the top spot in this poll. The full listing of books can be found at this link.