Actors in the News Weekly Roundup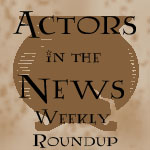 Mar 14, 2010
This week, the actors from the Harry Potter films have been getting involved with all sorts of new projects in film and theatre. Starting on the 17th of March, Ralph Fiennes (Lord Voldemort) will be filming "Coriolanus" in Belgrade, Serbia. Reuters reports that the actor, who is directing the adaptation of the Shakespeare tragedy, also stars in the leading role of Coriolanus, "a Roman general who betrays his native city Rome and allies with his sworn enemy Tullus Aufidius for revenge." Fiennes discussed the loss of funding that made filming a "challenge" and the choice of Belgrade in the Reuters interview which you can find at this link.
Robert Pattinson (Cedric Diggory) can be seen in the trailer for "Eclipse," the third film in the "Twilight" saga. You can watch the trailer here on YouTube. As the trailer notes, "Eclipse" will be released on the 30th of June this year. In related news, a number of reviews have surfaced of the film "Remember Me," in which Pattinson stars in a leading role and which was released in the U.S. and a number of other countries on Friday. Examiner reports that the low-budget film has already taken over $8.3 million in the U.S. box offices. The U.K. release date for "Remember Me" is the 2nd of April.
Actress Emma Thompson (Professor Trelawney) has been busy promoting the sequel to 2005 film "Nanny McPhee," titled "Nanny McPhee and the Big Bang." The film, which stars Thompson, Rhys Ifans (Xenophillius Lovegood), Maggie Gyllenhaal and Dame Maggie Smith (Professor McGonagall) will be released on the 26th of March. Scotland's Daily Record interviewed Thompson about "Nanny McPhee and the Big Bang," which the actress began writing while the first film was still in production. You can find the full interview on the Daily Record website via this link. Photos from Thompson's recent Nanny McPhee and the Big Bang book signing in London Piccadilly's Waterstones can be found here in our galleries. The Sun has a clip of Dame Maggie Smith playing Mrs. Docherty opposite Maggie
Gyllenhaal in the new "Nanny McPhee" film, which you can find by following this link to The Sun website.
Finally, it is rumoured that Dustin Hoffman will direct a BBC Films comedy called "Quartet" starring Dame Maggie Smith. FirstShowing.net reports that Hoffman will replace Richard Loncraine as the director of the comedy about four retired opera singers. Also starring are Albert Finney and Tom Courtenay.