Harry Potter Artist Mary GrandPre to Speak at Scholarship Breakfast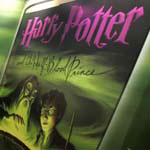 Mar 16, 2010
Mary GrandPre, the artist behind the cover art and illustrations in the U.S. Harry Potter books, will be the keynote speaker at The Girls' Middle School's Annual Scholarship Breakfast. The breakfast – "Step Into the Magic" – will take place on the 28th of April from 8:00am to 9:15am at the Crowne Plaza Hotel Cabana in Palo Alto, California. Tickets are required to attend the event and cost $100 each; you can buy them at this link. As outlined on the school's website, The Girls' Middle School aims to:

[Provide] a creative, diverse and nurturing learning environment with innovative programs in computer science, engineering, entrepreneurial education, beginning and advanced Spanish, and social and emotional learning.
Additionally, you can enter a raffle to win a boxed set of the Harry Potter books in hardcover, signed by Mary GrandPre. Tickets to enter the raffle cost $10 each and you do not have to attend the event to win. You can find more information on The Girls' Middle School's website.