Grint, Radcliffe, Watson and "Half-Blood Prince" Nominated for National Movie Awards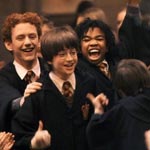 Apr 20, 2010
"Harry Potter and the Half-Blood Prince" and the Harry, Ron and Hermione actors are among those nominated in the National Movie Awards 2010. The sixth film in the Harry Potter series has received a nod in the Family category and will face "A Christmas Carol," "Alvin and the Chipmunks II," Emma Thompson's recent project "Nanny McPhee and the Big Bang" and Disney Pixar's "Up" to compete for the public vote.
Daniel Radcliffe (Harry Potter), Rupert Grint (Ron Weasley) and Emma Watson (Hermione Granger) have also all been nominated for the Performance of the Year Award. Emma Thompson (Professor Sibyll Trelawney) is up for the same award for her role as Nanny McPhee in "Nanny McPhee and the Big Bang." There are a total of 19 nominees for this award, including principal actors in "New Moon," "Avatar" and "Sherlock Holmes."
You can vote here on the National Movie Awards 2010 website, with voting closing on the 30th of April. The awards ceremony will take place in London's Royal Festival Hall on the 26th of May and will air on ITV1. Tickets to the event can be purchased on the Southbank Centre website or by calling 0844 847 9911.