Pass Under the Archway into Hogsmeade at Wizarding World of Harry Potter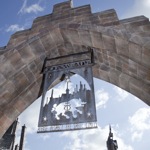 Apr 27, 2010
Universal Orlando has released a new image from the Wizarding World of Harry Potter attraction, showing the brick archway entrance to Hogsmeade. Now available in our Image Galleries, this high res image showcases what appears to be a wrought iron sign reading "Hogsmeade," the image also features the crooked, towering, and snow-covered skyline of the magical village. An accompanying caption for the sign reads:

As guests pass through the arch into Hogsmeade at The Wizarding World of Harry Potter, they will be immediately transported to a world of wonder, excitement and adventure. While exploring the cobbled streets of the highly themed environment, they will encounter iconic locations from the Harry Potter books and films, like the Hogwarts Express, Ollivanders and the majestic Hogwarts castle.
The Wizarding World of Harry Potter is set to have its grand opening on June 18, 2010. Stay close to TLC for the very latest!